About Us
I will now introduce the electronics market of Akihabara, where our head office is located, as well as our company structure and the systems being implemented.
What is a typical Akihabara electronic parts trading company?

We play a role in Akihabara's Electric Town's history and the distribution of electric parts.
Akihabara, known as the "Electric Town," has long been famous for its household appliances and electric parts, such as the ones our company carries. However, with the spread of computers these shops have evolved into specialty shops for computers and computer parts. In recent years Akihabara has become known not only as a place for anime enthusiasts to gather, but also as an academic town because of the redevelopment of Electric Town's north side.
However, even as Akihabara steadily transforms, it is still the central distribution hub for electronics parts.
In addition to us, there are roughly 200-300 other electric parts trading companies and specialty stores in Akihabara. Together we carry electric parts from over 1,000 manufacturers and distribute them to the various electronic equipment makers, trading companies, and sales outlets throughout the country.
When it comes to Akihabara and the distribution of electronic components, it would be no exaggeration to say that all the electronic components in circulation in Japan have gone through Akihabara's electronic component trading companies and shops. It is just like the saying goes, "If you can't get an electronic component in Akihabara, you won't get it anywhere in Japan."
The Japanese economy is also facing the kind of big transition that happens once in decades.
In this industry, too, with the shift to China-based production due to globalization, increasingly strict environmental responses such as the RoHS Directive, and the transformation in forms of distribution due to the IT revolution, the actual value of the companies themselves is being called into question.
Moreover, with all these countless trading companies complementing each other's product ranges, it is possible for electronic component trading companies in Akihabara, including our own, to offer an enormous variety of electronics components.

Corporate entities, etc., within headquarters

Special Sales Group, Sales Department
This department serves customers near our headquarters in the Akihabara area, such as electronic parts trading companies and electronic parts retailers.
The department is currently composed of one male and five female employees and conducts business with approximately 150 customers, primarily selling products for companies such that stock inventory with us such as Nanaboshi Electric Manufacturing, Sanyo Denki, and Hirakawa Hewtech.
Commercial Sales Group, Sales Department
This department serves customers throughout Japan (excluding the Tohoku region), primarily in the Kanto region, such as electronic parts trading companies and electronic parts retailers.
The department is composed of two male and two female employees, and aside from handling inventory that we produce for Nanaboshi Electric Manufacturing and Sanyo Denki, we handle products from many different parts makers in the Akihabara area thanks to the cooperation of trading companies in our industry, and can act as purchasing departments for our customers.
Development Group, Sales Department
This department is responsible for acquiring new customers, conducting business with manufacturing companies, and exporting products overseas.
The department is composed of three male and one female employee, and can deal with various assembly and special order products that our customers require. The department also searches for parts manufacturers to supply our company.
Product Management Department
This department is composed of five male and one female employee, and is responsible for managing inventories, receiving products from our suppliers, ordering, and preparing products for shipment to our customers.
Concerning receiving, the department handles the receipt of between 1000 and 2000 products daily from 50 to 100 companies.
General Affairs Department
This department handles all management functions (such as equipment) and accounting for our company.
Systems in use, etc.
Basic Systems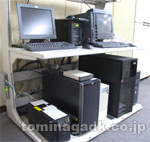 Within our company, each employee has at least one PC (including mobile devices), which are all connected via a LAN system that was installed in 1994. All devices are connected to our "TREE" sales management system, and can view inventory and order statuses, current revenue amounts, and other information.
Since 1994, we have used the IBM AS/400 as our sales management system, and we currently use the updated AS/400i5 version.
Additionally, our external Internet connection utilizes a dedicated fiber optic connection, allowing for stress-free file transfers to and from our customers of large data files from any one of our devices.

Information Management System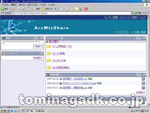 Since March 2007, we have been implementing the "ArcWizShare" (FUJIXEROX) information management system, with the intent of increasing the speed of information exchange within the company, and increasing the extent of information sharing between departments.
Thanks to this system, information is communicated faster and searching for information within the company is quicker, leading to a higher quality of customer correspondence.

Additionally, it can convert documents to electronic format, allowing for the accumulation of paper documents as data, which not only provides a paperless work environment, but also makes it possible to accumulate documents that were formerly stored in paper format into a database.
Other Facilities, etc.
The second floor, which houses departments such as our Sales Department, utilizes movable partitions, which allows for the expansion of areas such as meeting spaces usually utilized by a small number of employees into a much larger space that can be used for events such as company training attended by all employees.
Also, there is a women-only employee rest area that is approximately 33 square meters in size that can be used freely, and it is typically used for lunch breaks.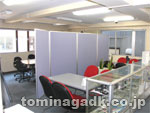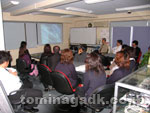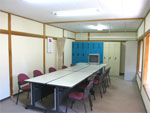 Initiatives in Environmental Protection

Although our company has achieved environmental management system ISO14001 certification (Revision registration in 2005 to the new standard), we have been active in our efforts on a routine basis throughout our company in environmental protection for the purpose of reducing environmental burden.

Environmental Activities
We have implemented "ArcWizShare" as an in-house system which contributes to paper document reduction by digitizing documents, but as an ongoing routine effort we are:
Using e-mail to decrease the amount of paper usage by reducing internal paper documents and faxes
Using backprint in office copiers and printers for internal printouts, and further using a shared recycling system
Turning off office lights during lunch hour to reduce electricity usage
Complete interior temperature management, implement "Warmbiz" and "Coolbiz"
Switching to solar power generation for some of the electricity used by our offices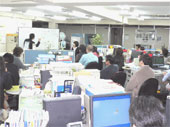 as part of our activities.
We regularly hold seminars on environmental activities as well.

Active Sales of eco-Products
As part of our environmental activities we are endeavoring to be active in sales of eco-products (eco-friendly products).
Our main eco-products include the products below, but the number of items we carry increase every year.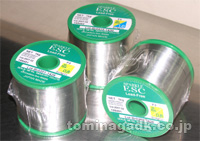 SANUPS series uninterruptible power supply by Sanyo Denki which contributes to power usage reduction
Lead-free solder products by Senju Metal Industries that do not use lead, which is known for its high environmental burden
Independent solar power generation systems, which our company is also using
Power conditioners for solar power generation
Eco-friendly cables (EM wire) and other cables by Hitachi Cable and others
Initiatives to support child raising

The Act on Advancement of Measures to Support Raising Next-Generation Children was enacted in 2003. Based on this Act, in order to facilitate their employees being able to continue to work while raising children, companies who employ 101 or more employees are legally obligated to formulate a General Business Owner Action Plan, to submit this plan to the Bureau of Labor of their local government, to publish it to the public, and to distribute it widely to their employees.
Even though we have less then 100 employees and so are not legally obligated to create a General Business Owner Action Plan, in 2012 we formulated and published our action plan so that our employees can both work and raise children.